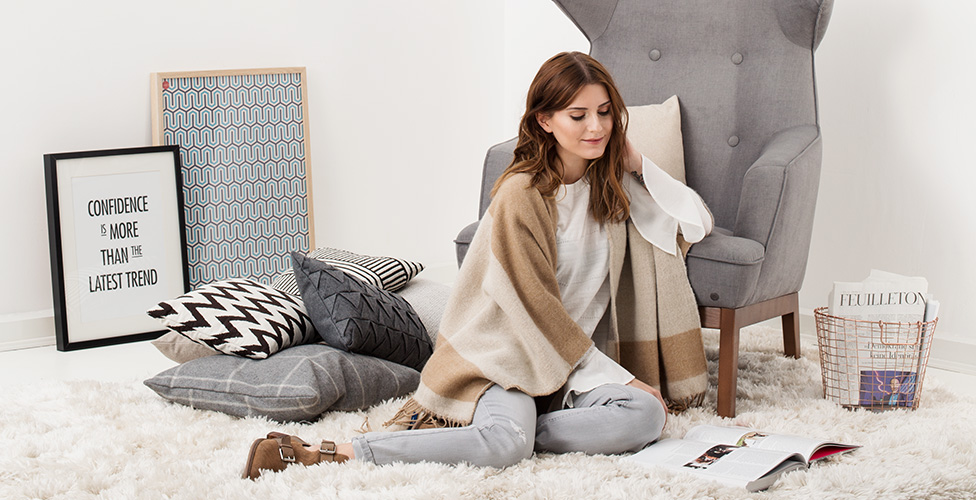 Get Ready for the Fall with Hoard of Trends
We are delighted to introduce Magdalena from the fashion and lifestyle blog Hoard of Trends as our lookbook model for the current fall/winter collection. Naturally, we took this opportunity to ask Magdalena a few questions about her personal style, role models and travel must-haves:
What is your favorite TOM TAILOR piece from the current collection?
My favorite is the reversible knitted jacket in beige and pink! As well as being super soft and cozy, it's also very versatile and the pink side adds a splash of color to the grey fall season 🙂
How would you describe your personal style?
I would describe my style as Parisian. My style varies depending on my mood. Sometimes it's sporty, sometimes edgy, and other times elegant. But overall, it's always classic and simple without being boring. Striped tops, skinny jeans, a well-fitting blazer and pumps are my personal must-haves, because they are so versatile when combining with other items and never go out of fashion. The color palette in my wardrobe is also relatively straightforward: mainly black, white, red, and blue! I also love mixing elegant and edgy items.
What do you think is the one accessory that can bring any outfit to life?
In my opinion, a high-quality leather bag adds that certain something to any outfit! I have two burgundy bags, which I particularly like to use in the fall. Investing in a slightly more expensive bag is especially worthwhile if the shape is timeless and classic. However, I would advise staying away from wild patterns, as you are likely to get bored of them quite quickly.
Where do you draw inspiration from? Do you have a style role model?
I find inspiration everywhere! Whether it's models in a magazine, blogger colleagues, stylish women on the street, or musicians. I like brave people with a unique style, i.e. people who are not scared to try something new that you don't see everywhere.
Do you have a favorite blogger?
I am a big fan of Aimee Song (Song of Style) and Julie Sariñana (Sincerely Jules)! They both have great style! Their outfits are never over the top. Instead, they're simple, cool and classic. Which is exactly why I can identify with both of them so well and be inspired by them 🙂
What items do you never travel without?
Ear plugs and an eye mask are essential for a restful night's sleep. Apart from those, I always pack a nourishing face mask, cozy socks and a portable charger for my cell phone so that I can easily respond to emails on the move and take lots of photos.